ABLE Accounts in Pennsylvania
The Achieving a Better Life Experience (ABLE) Act authorizes tax-advantaged savings accounts for individuals with disabilities that manifested before they turned 26. In most cases, ABLE Act accounts will not jeopardize means tested government benefits such as Medicaid and Supplemental Security Income (SSI). However, there are a number of limitations on these accounts including: 1) the annual maximum contribution to an able account is currently $14,000, 2) if there is more than $100,000 in the ABLE account the individual will lose SSI benefits, and 3) the funds must be spend on "qualified disability expenditures" which include education, housing (including rent), transportation, employment support, health and wellness, assistive technology, etc.

The beneficiary of the ABLE account does NOT have to be eligible for services from the Department of Public Welfare, although many will be. An individual currently receiving SSI or SSDI from the Social Security Administration should automatically qualify for an ABLE account so long as their disability manifested before the age of 26. Individuals are only permitted to have one ABLE account.

ABLE accounts will be overseen by the Pennsylvania Treasury Department. The Treasury Department is in the process of creating the final regulations concerning ABLE accounts, and the accounts are expected to be available by the end of the year. The Treasury Department has created a website where you can sign up to receive updates on the program and open an ABLE account when the program is available: http://pa529.com/able.html.

Pennsylvania's ABLE accounts are unique from those of most other states because they do not have a "payback" provision. This means when the beneficiary of the account dies, the funds remaining in the account will be paid to the individual's heirs rather than the Pennsylvania Medicaid agency. Additionally, there is a separate bill making its way through the Pennsylvania legislature which would provide a state income tax deduction for contributions to an ABLE account, but that bill has not yet passed both houses.

It is important to remember because of the limitation of ABLE accounts, it will usually be more advantageous for families to create a special needs trust or use other savings vehicles. Please refer to our other articles on Special Needs Trusts for more information.
What Happens When Parents Retire?
Individuals with disabilities currently receiving Supplemental Security Income ("SSI") from the Social Security Administration ("SSA") also automatically receive Medicaid in New Jersey. However, when a parent retires or becomes disabled and starts to collect Social Security benefits, a child with a disability is eligible to receive a different Social Security benefit based on their parent's work history. The child is entitled to receive approximately half of what the parent is receiving. For example, if a parent is collecting $2,200/month in Social Security, their child with a disability is entitled to receive approximately $1,100/month without diminishing what the parent receives. The child cannot refuse or disclaim this benefit.

At this point many parents will panic because they remember SSI and Medicaid are means-tested programs, therefore, eligibility for those benefits require their child to have income under a certain amount ($764.25/month in 2016) and under a certain amount of assets ($2,000 in 2016). In the above example, receiving $1,100 per month would put the child over the income limit for SSI, so he or she would no longer be SSI eligible. If the individual had only been entitled to receive $500 (for example) on his parents work history, he or she would have remained under the income limit and would have remained SSI and Medicaid eligible without the need to do anything. But because the child's Medicaid benefit is based upon receiving SSI, the child would also lose Medicaid.

Since this result would obviously be unfair to the child, there is a solution to getting the child back on Medicaid. Every child that was receiving SSI and switched over to receiving a higher SSA benefit on a parent's work history is given a "DAC" designation by the SSA (DAC is an acronym for "Disabled Adult Child"). With this status, the parent can then go to their local County Board of Social Services and make an application for Medicaid benefits on their child's behalf. When a child has "DAC" status the County Board effectively ignores any income the child receives from the SSA when determining whether or not the child meets the income requirement for Medicaid. As a result, the child will almost certainly be determined eligible for Medicaid again.

During the transition period when the individual stops receiving Medicaid through SSI until the individual begins to receive Medicaid through the County Board of Social Services, the Division of Developmental Disabilities should continue to provide the individual with the same services as he or she was receiving before. However, there is a limit to the amount of time DDD will continue to provide services to someone who is not Medicaid eligible, so it is important to apply for Medicaid at the County Board of Social Services quickly.
Action Points:
Parent begins collecting Social Security

Child's benefit switches from SSI to an SSA benefit on a parent's work history and receives a benefit greater than the SSI income limit

Child is given "DAC" status by the SSA

Parent reapplies for Medicaid with the County Board of Social Services

DDD services should continue even if there is a gap in Medicaid coverage
Legal Victories
The firm successfully represented a thirteen year-old boy with Autism who had been in several different out-of-district placements, but had not been able to generalize and apply learned skills in environments outside of school. HFPF helped secure a multi-year residential placement at Camphill.

The firm successfully represented an eleven year-old boy with Dyslexia, Auditory Processing Disorder, Anxiety, and ASD. While cognitively high functioning, the boy was not being provided instruction that led to academic or social progress, and he was being isolated at school. HFPF negotiated a 7-year agreement for placement at the Craig School.
Working While Receiving SSI
As adults, we work not only to sustain our lifestyle but to enrich our lives and contribute to society. Our work provides a sense of purpose and accomplishment. Individuals with developmental disabilities experience the same benefits from working. Unfortunately, people with disabilities often forego employment for fear of losing their Supplemental Security Income ("SSI") and Medicaid benefits. The question often arises: "Can I still receive SSI if I work?" The simple answer is yes. But of course, nothing is as simple as it seems. An individual may work, but he or she must understand how working affects SSI benefits.

What effect does earned income have on SSI benefits?
The calculations of a monthly benefit amount are easier to understand in an example.

Let us assume that John receives $698 per month from SSI. John then starts to work and earns $500 per month.

The first $20 John earns will have no effect on his SSI benefits. This is a general income exclusion that is applied to either earned or unearned income (unearned income is income that comes from something other than employment, such as SSDI benefits that an individual receives based on either their own or a parent's work history).

The next $65 John earns will also have no effect on his SSI benefits. This is the earned gross income exclusion.

After the two deductions are taken from John's earnings of $500 per month, $415 remains. That $415 is then divided in half, and deducted from John's $698 SSI benefit. As a result, John will receive $490.50 in SSI benefits. John will also continue to automatically receive Medicaid.

If you combine John's SSI benefit with his earnings, his total income each month would be $990.50, which is higher than if John simply received his original $698 per month from SSI.

However, there is a point when John's earned income would cause him to lose his SSI benefits. This would happen if John earns more than the SSI income limit, which is $764.25 in 2016.
For more of this article, visit this post on our website.
Forward this enewsletter to family members, friends and colleagues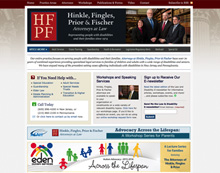 Click here to visit our website.
Hinkle, Fingles, Prior & Fischer is on Facebook
, where we post news, events and happenings as they relate to law and disability.
Community Connections
ASA Philly
Conference 2016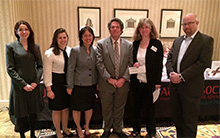 HFPF was out in force to support the ASA Philly Conference, where the firm was the Presenting Sponsor of the event. From left to right, HFPF attorney Rebecca O'Neill, HFPF staff member (and conference coordinator) Kristina Tosti, HFPF partners Maria Fischer and Ira Fingles, ASA Philly President, Patti Erickson, and HFPF Partner, Paul Prior.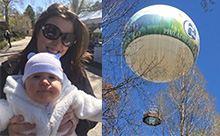 HFPF staff and their families participated in the Philadelpia Chapter of the Autism Society of America's Zoo Day at the Philadelphia Zoo.
Phoenix Center
25th Anniversary Gala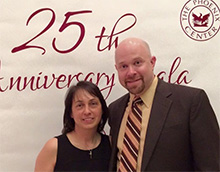 HFPF had a great time at the recent Phoenix Center 25th Anniversary Gala. Congratulations to founder Geraldine Gibbia on her well deserved retirement. Above, HFPF partners Maria Fischer and Paul Prior at the event.
Special Olympics NJ
Lincoln Tunnel Run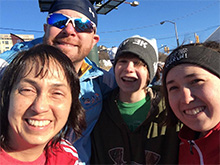 HFPF staff and family members had a great time at the Special Olympics NJ, Lincoln Tunnel Challenge where we ran from Weehawkin, NJ to NYC (and back) through the Lincoln Tunnel to raise funds and awareness for SONJ. Although, we did skip the toll.
Special Olympics NJ
Liberty 5K Run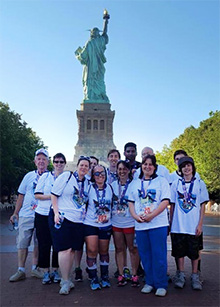 HFPF staff and their families celebrated Independence Day by participating in SONJ's Liberty Run.