Disability Planning: Update on
ABLE Accounts in New Jersey
You may have read our previous articles regarding the Achieving a Better Life Experience (ABLE) Act. Briefly, the ABLE Act creates tax advantaged savings accounts for individuals with disabilities, which in most cases will not jeopardize means tested government benefits such as Medicaid and Supplemental Security Income (SSI). However, there are a number of limitations including:
the disability must have manifest before the age of 26,

individuals can only have one ABLE account,

the annual maximum contribution to an able account is currently $14,000,

if there is more than $100,000 in the ABLE account the individual will lose SSI benefits, and

there is a "payback" provision. The "payback" provision provides that Medicaid and other government agencies will be permitted to recover any funds remaining in the account when the beneficiary dies.
For more information on how ABLE accounts may be useful, you can find our previous article here, which also explained the next step was for New Jersey to pass both a statute and regulations.

On January 11, 2016, Governor Christie signed the bill into law approving the use of ABLE accounts in New Jersey.

Under this law, ABLE accounts are going to be managed by the New Jersey Division of Developmental Disabilities (DDD). Any New Jersey resident will be permitted to apply for an ABLE account, however, the beneficiary of the account must be an individual with a disability. The beneficiary of the ABLE account does NOT have to be DDD eligible, although many will be. An individual currently receiving SSI or SSDI from the Social Security Administration should automatically qualify for an ABLE account so long as their disability manifested before the age of 26.

To establish an ABLE account you will have to contact DDD and provide the requested documentation, including proof of residency in New Jersey. There will be some fees associated with establishing an account, and a minimum balance of $25 is required. DDD will also be able to collect a small amount of yearly fees for the management of the funds in the account. One particularly troubling provision of the New Jersey law is you will only be able to make withdrawals from an ABLE account by providing 60 days' written notice to DDD.

Because of the various limitation of ABLE accounts, it will usually be more advantageous for families to create a special needs trust or use other savings vehicles. Please refer to our articles on special needs trusts for more information.
There is No Place Like Home
Never underestimate the power of a small group of committed people to change the world. In fact, it is the only thing that ever has."
For over four years a battle has raged in the state of New Jersey over whether individuals with disabilities in out-of-state placements should remain in their homes or be brought back to New Jersey. The families of the effected individuals decided to take matters into their own hands by challenging this policy in Trenton. It took over a year of intense advocacy and lobbying. In the end, this group of families triumphed when earlier this month their hard work culminated in the passage of S-3117, a law that virtually ended DDD's ill-conceived Return Home New Jersey Initiative.

We at Hinkle, Fingles, Prior & Fischer want to congratulate the efforts of these families and celebrate their successful advocacy. We represented dozens, if not scores, of these families in their individual advocacy against DDD. We are happy to say most of these families remained in their out-of-state placements even while the future of RHNJ appeared strong. In the limited circumstances where a family did allow the Division to return their child to New Jersey, the move was often to a placement which was as good as, if not better than, the one they were accustomed to. In addition we testified before the legislature and worked with individual members of the senate and assembly on this legislation. We were honored to work with the group of families who organized themselves and for whom we provided legal and policy advice which ultimately helped lead to the death of the Return Home New Jersey Initiative.

Despite the successful termination of RHNJ as well as the positive outcomes from some whose placement changed to a New Jersey setting, there are some for whom the outcome was not so beneficial. We are already beginning to work with some families on ways to return their child to the out-of-state placement they once enjoyed. State law which pre-dates the RHNJ initiative gives parents the ability to advocate for and, if necessary, sue DDD to return their family member to their previously successful placement.
Legal Victories
The firm successfully obtained community based emergency residential services funded through the Division of Developmental Disabilities for a 54 year-old Middlesex County woman diagnosed with Down Syndrome. The woman lost residential services after being hospitalized and transferred to a nursing home for rehabilitation.

The firm negotiated a successful settlement with a Bergen County school district to cover the contribution to care assessment from the Division of Developmental Disabilities for a 15 year-old student in a residential placement who is diagnosed with autism and exhibits severe maladaptive and aggressive behaviors.

The firm successfully appealed a Division of Developmental Disabilities' denial of eligibility for a 31 year-old Ocean County young woman with multiple disabilities, including learning disabilities, physical disabilities and mental illness.

The firm successfully assisted the mother of a 22 year-old Sussex County young woman with severe static encephalopathy and quadriplegic Cerebral Palsy in obtaining Medicaid eligibility so that the young woman could obtain DDD services.
Forward this enewsletter to family members, friends and colleagues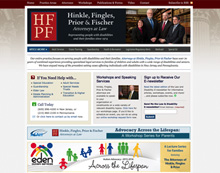 Click here to visit our website.
Hinkle, Fingles, Prior & Fischer is on Facebook
, where we post news, events and happenings as they relate to law and disability.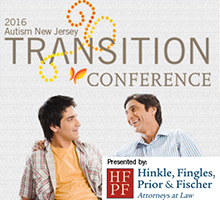 Hinkle, Fingles, Prior & Fischer is proud to support Autism New Jersey as Presenting Sponsor of the 2016 Transition Conference, April 18, 2016, in Woodbridge, NJ. We will also be offering a limited number of private 15-minute consultations with an attorney from our firm. Click here to register now.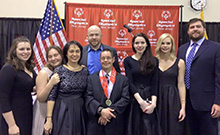 Hinkle, Fingles, Prior & Fischer was out in force supporting the 9th annual Special Olympics New Jersey, Evening of Chance fundraiser. We had a wonderful time and we are proud to be one of the presenting sponsors of this year's event.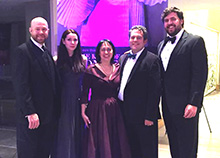 HFPF attorneys Paul Prior, Rebecca O'Neill, Maria Fischer, Ira Fingles and Adam Wilson supporting Eden Dreams' Some Kind of Wonderful Event in Princeton.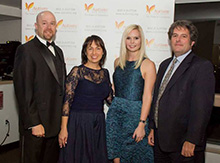 Proud to support Autism New Jersey's 50th Anniversary Gala.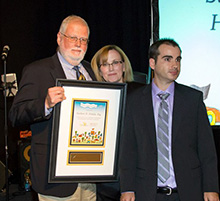 Kathy Moore (center) and son Kevin (right) present Herbert D. Hinkle, Esq. with the Lifetime Achievement Award.